When I was a kid our family vacationed at a YMCA camp in the Boundary Waters Canoe Area of northern Minnesota. There I learned how to handle a canoe and pitch a tent. And there I learned to love singing around the evening campfire. Our song "This Is My Father's World" was one of many I first sang there. Years later I was dismayed to read a Bible verse that called Satan "the god of this world" which would seem to make this song say Satan was my father. YIKES! I thought I could never enjoy this song again. What a shame! I'm so thankful someone turned the lights on for me and helped me understand the "world" as used in that Bible verse has nothing to do with God's magnificent creation of the heavens and the earth. It is referring to man's world systems of culture — philosophies, religions, education, commerce and the like. No question, Satan's handiwork is evident in THESE areas. But God's work STANDS. I was SO happy to get my song back again. Give it a listen, then come back and we'll connect the message of this song with the whole duty of man. Don't miss THAT! ?
God's first act; man's whole duty
Do you know the first act of God recorded in the Bible?
Have you seen what Ecclesiastes says is the whole duty of man?
Do you think these would be good things to know for a successful life?
Do you imagine God wants His people to know these?
Do you imagine Satan wants people to know these?
Let all the earth fear the LORD:
let all the inhabitants of the world stand in awe of him.
For he spake, and it was done;
he commanded, and it stood fast.
(Psalm 33)
This Psalm connects God's first recorded act (He created the heaven and the earth) with Ecclesiastes' whole duty of man (fear God and keep His commandments).
We enjoy being in a "cozy room" with God. God IS good. God IS loving. God IS gracious. God IS merciful. God IS kind. God IS understanding. God IS patient. Sometimes we hear Him called "Daddy". We like the idea that He will always love us "no matter what we do".
But we need to enter that cozy room through the right door or we as people will not be what God has made us to be, and we as a church will not accomplish what God has made us to accomplish. The Bible teaches:
The fear of the Lord is the BEGINNING of knowledge.
The fear of the Lord is the BEGINNING of wisdom.
The fear of the Lord brings God's watchfulness.
The fear of the Lord brings confidence and refuge.
The fear of the Lord is a fountain of life.
The fear of the Lord enables satisfying sleep untouched by evil.
The fear of the Lord brings stability of times and strength of salvation.
The fear of the Lord is to hate evil. Pride. Arrogance. Disobedience.
When the fear — proper respect and awe — of the Lord is at the core of the church we see repentance and a great move of God. Gossip and criticism disappear. Signs, miracles and wonders increase, bringing deliverance and winning souls.
Creation or evolution – "Whatever"
Awhile back a photo circulated of a famous entertainer (who could dance) dangling his infant son over a hotel balcony four stories above his fans gathered below. (To his credit he later apologized.) As awful as this image is, it seems to me it is not much different from the harm we expose our own children to when we don't clearly teach them to give God Almighty the awe and fear due Him as The Creator. Does God see? Does God hear? Does God know?
Standing in awe of the Creator should be the foundation of our relationship with Him. Maintaining proper awe and respect for The Creator puts us in a better place to receive His goodness, love, guidance, power and the deliverance He has for us.
The fear that defeats all fear
I John 4 says, "Perfect love casts out fear." Does this mean that "fearing God" went out with the Old Testament, and as Christians we can skip the "fear God" step and just enjoy His love, banking on His grace? Some teach that.
The truth is when we put God first — when we respect Him, stand in awe of Him, in other words "fear Him" — all other things we might be afraid of become smaller. Sure, disease has power to hurt, but NOT AS MUCH POWER AS GOD HAS TO HEAL. When we recognize and embrace God as the greatest power, everything else can fall in line in its proper order.
When we stand in awe of God and His Son, our Lord and Savior Jesus Christ, we embrace power we need to minister to people crying out for deliverance. AWESOME!
Our song "This Is My Father's World" is a beautiful expression of the unique nature of God Almighty, Creator of heaven and earth. "I rest me in the thought" of His creative power and marvelous works. He is AWESOME and He is Love.
God bless you lots!
Dale R.

---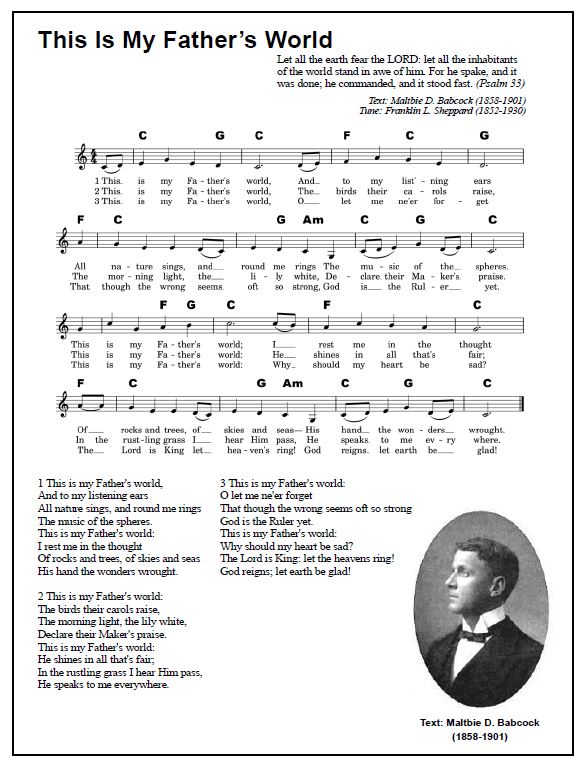 Download this song sheet from The Music Box
LYRICS: This Is My Father's World
Text: Maltbie D. Babcock (1858-1901)
Tune: Franklin L. Sheppard (1852-1930)

1 This is my Father's world,
And to my listening ears
All nature sings, and round me rings
The music of the spheres.
This is my Father's world:
I rest me in the thought
Of rocks and trees, of skies and seas–
His hand the wonders wrought.

2 This is my Father's world:
The birds their carols raise,
The morning light, the lily white,
Declare their Maker's praise.
This is my Father's world:
He shines in all that's fair;
In the rustling grass I hear Him pass,
He speaks to me everywhere.

3 This is my Father's world:
O let me ne'er forget
That though the wrong seems oft so strong,
God is the Ruler yet.
This is my Father's world:
Why should my heart be sad?
The Lord is King: let the heavens ring!
God reigns; let earth be glad!

Is God Awesome?
Please share your thoughts in "Leave a Reply" below.
Get a quick note ♫ when new songs appear!
Click "Get The Music Box" button [below] and tell me where to send a quick, cheerful note with link to new songs when I post them. You'll also get access to "The Music Box" — a free resource I maintain to help people navigate through more than 100 valuable Bible songs & lessons PLUS other goodies for music ministers, home schools, home churches and helps for aspiring guitar and uke players. I use the page myself. Give it a look. Let me send you the key to get in. All free – a labor of love to bless you and your family. -Dale R.