The Peanut Butter Song
Kids, teens, adults — we all slip and slide at times. This is a happy and thankful song about God's good pleasure to take care of us in those times, and always. Please enjoy the song, then come back for more about Gods loving care … and peanut butter, too.
God's care before we got here
For starters, how about God providing us a place to live? In the beginning God … you know the rest. And this place is no crummy dirt pit. Blue skies, puffy clouds, sunshine, rain. Flowers, pine-scented forests, purple mountain majesties. Then add to that kittens, puppies, horses. Endless lists of wonders and beauties.
He made things so people start out with a mother and father — the family — a beautiful and wise design! Think about the magnificence of creation, and marvel at God's care even before we got here.
He sent His son, Jesus Christ, making possible the change from a life that certainly ends to a life that never ends.
Get started looking at all the preparation God did before we got here, and sing for joy!
God's care now that we're here
Do you know that song "Angels Watching Over Me"? (I'll sing it for you sometime.) Well, it's true! Hebrews 1 asks, "Are they not all ministering spirits, sent forth to minister for them who shall be heirs of salvation?" Haven't we all nearly missed some disaster, and thought we just got lucky? Might be a LOT more to it. Indeed!
Got needs? God asks us to ask Him. Right now!
Read, in Philippians 4, "Be careful [anxious] for nothing; but in every thing by prayer and supplication with thanksgiving let your requests be made known unto God. And the peace of God, which passeth all understanding, shall keep your hearts and minds through Christ Jesus." We don't need to let anxiety about anything eat us alive. He says ASK — with believing and thankfulness — and RECEIVE peace, peace, wonderful peace, even while the answer to the prayer is unfolding.
Get started counting your blessings now, and shout for joy!
God's care forever
"For God so loved the world, that he gave his only begotten Son, that whosoever believeth in him should not perish, but have everlasting life." How long is everlasting? Our forever God will care for us forever.
This might be the best known verse in the Bible. Yet, as far as we can tell, only one person, Nicodemus, was there to hear Jesus say it. How is it possible so many people have heard this verse when it was first spoken to one man only? I offer this short answer: We've heard it because God takes good care of us, past, future, and, certainly NOW. Put the Lord to the test, think and act on His Word, and prove what is His good and acceptable and perfect will. He is up to the challenge, so bring it on!
God bless you lots!
-Dale Reichel
---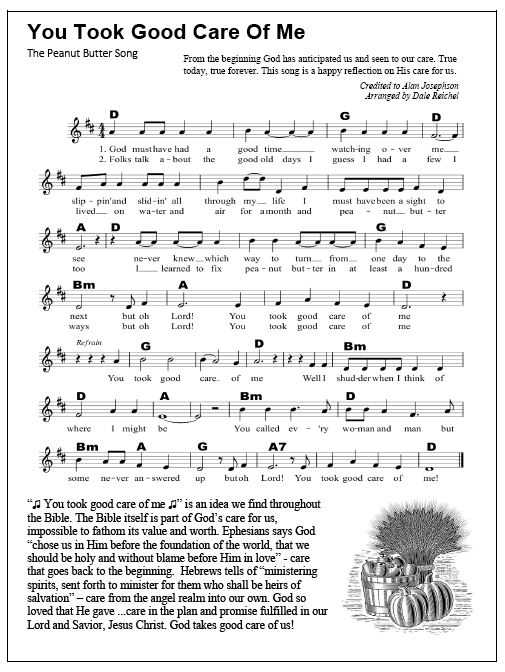 LYRICS: You Took Good Care Of Me
Song by Alan Josephson

God must have had a good time watching over me
Slippin' and slidin' all through my life I must have been a sight to see
Never knew which way to turn from one day to the next
But, oh Lord! You took good care of me

Refrain
You took good care of me
Well I shudder when I think of where I might be
You called ev'ry woman and man but some never answered up
But Oh Lord! You took good care of me!

Folks talk about the good old days I guess I had a few
I lived on water and air for a month and peanut butter too
I must have learned to fix peanut butter in at least a hundred ways
But oh Lord! You took good care of me

Your thoughts, please?
In the "Leave a reply" section below, please share a favorite example of God's care for you. Thanks!
May I drop you a note when new songs are posted here?
May I send you the key to print-ready song sheets you can download FREE?
Click the "Get The Music Box" button below and tell me where to send them.