Though this song's roots are more than 1200 years old, it remains one of the favorites of the Christmas season. It's minor key and old-style language artfully support the lyrics which beg for the Messiah to come and deliver mankind from darkness and into light. But the Messiah HAS already appeared — so why is this song still relevant? Give it a sing-along listen, then let's explore why the song is still loved to this day.
A bit of history
This hymn, originally in Latin, got its start over 1,200 years ago as part of a set of monastic chants spoken at Advent — the church calendar's time leading up to the yearly celebration of Christ's birth. Around the 1100's A.D. the Latin words were made metrical, that is, more like poetry or song lyrics. The lyrics in our song were traditionally sung the night before Christmas Eve.
It was not until 1854 that the current melody — a tune supplied by composer Thomas Helmore — first appeared in a hymnal. Due to translations and changes in language, lyrics have varied widely over the years. The current English lyrics were pretty much settled by 1861.
"Emmanuel" is one of the names for the coming Messiah and is found both in Isaiah 7:14 and Matthew 1:23. Matthew quotes Isaiah virtually verbatim—"Behold, a virgin shall conceive, and bear a son, and shall call his name Emmanuel"—with the exception that Matthew adds the phrase: "which being interpreted is, God with us."
Ransom captive Israel –?
"Ransom captive Israel" — what does that mean?
We read about Israel's times of actual captivity in the Old Testament and their desire for deliverance. But we can go all the way back to Adam and Eve and their fall to mark the beginning of ALL mankind's exile from living in "God's country" and of living captive to fear, sin and death — until God sent His Son to us.
Until Jesus Christ returns, we will continue to be confronted with fear, sin and death in this world. I think this is one reason our old hymn still resonates with people today. We still reach toward God and His Messiah for deliverance, wisdom and strength.
Thank God we have been given life and power — and real-time help from above — enabling us to rise above the worst this world dishes out.
A bright hope
The darker the night, the brighter the dawn. The song's third verse eagerly looks to the Dayspring coming to disperse the gloom of darkness and to destroy the last enemy — death (I Corinthians 15:26).
Ephesians 1 beautifully describes our current state and the glory that is coming. Read it for yourself. I'll give the gist here: Through Jesus Christ the price has been paid to buy us back from captivity. We've been forgiven. We've been promised an inheritance (which we will see in full in the future), and we have been sealed with the gift of holy spirit [received through the new birth — "Christ in you, the hope of glory"] which is the "earnest" (think "down payment, evidence the deal is real") until Christ returns to collect the many people He lovingly purchased.
Notice we have already received much we can use right now, we have received wonderful promises for the future and we have been given tokens of evidence that the future promises will be fulfilled.
Though Emmanuel's FIRST coming was remarkable and miraculous, the SECOND coming will be indescribably more grand. We are in between these two comings, and still have challenges to overcome, so we can still sing songs like "O Come, O Come Emmanuel".
We can be so very thankful to be singing a song like this with His first coming behind us, with Christ IN us NOW and with a bright hope for the promises that lie ahead of us. We still have work to do, but we labor for a glorious Lord.
We eagerly look for the Lord's return. Until then, through His guidance and help, we occupy until He comes. O come Emmanuel!
God bless you lots,
Dale R.
---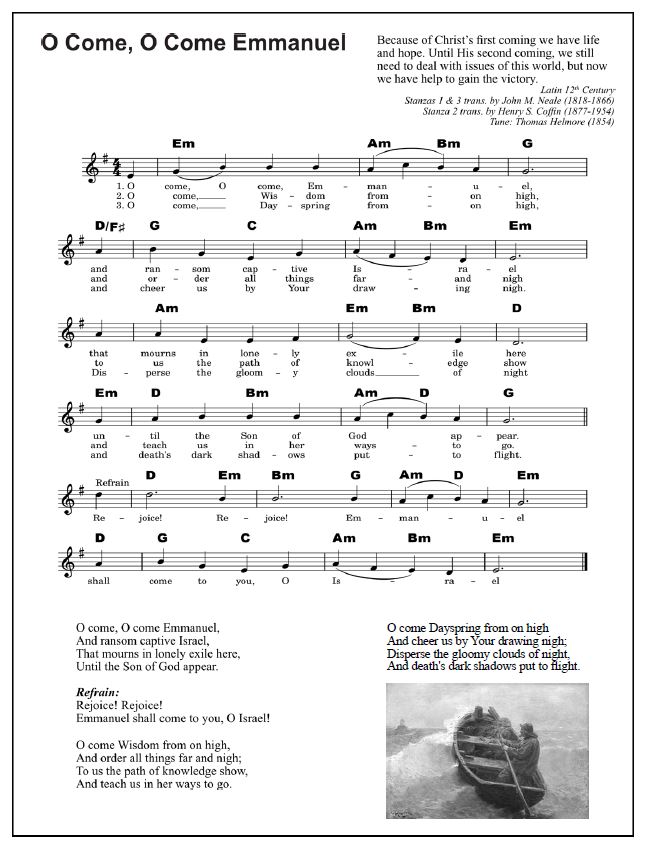 LYRICS: O Come O Come Emmanuel
Latin 12th Century
Verses 1 & 3 trans. by John M. Neale (1818-1866)
Verse 2 trans. by Henry S. Coffin (1877-1954)
Tune: Thomas Helmore (1854)

O come, O come Emmanuel,
And ransom captive Israel,
That mourns in lonely exile here,
Until the Son of God appear.

Refrain:
Rejoice! Rejoice!
Emmanuel shall come to you, O Israel!

O come Wisdom from on high,
And order all things far and nigh;
To us the path of knowledge show,
And teach us in her ways to go.

O come Dayspring from on high
And cheer us by Your drawing nigh;
Disperse the gloomy clouds of night,
And death's dark shadows put to flight.

Subscribe — easy way to get songs
I send a note to subscribers when I post a new song and lesson. I'd be happy to send a note to you, too. Just click the "Song of the Week" button below and tell me where to send it. You'll also get immediate access to the collection of free downloads related to this song project. I hope you enjoy exploring that resource. God bless you. — Dale R.
You're invited to leave a comment on the song & lesson
Type away below. Please know that If this is the first comment you've left here, it will take a little while for it to appear. If you ever want to update a comment one easy way is to leave a new comment asking for the change, and I'll see to getting it all done as you ask. It's a family effort.