This song was why summer camp buses were invented. The song comes alive when accompanied by the wind howling through the bus's open windows and the bus tires tapping their feet on the rolling asphalt. It's a match made in heaven like burnt hot dogs and fresh-carved cooking sticks. But when camp is done and we are back at school or work do we still want to sing it? What if someone HEARD us and asked WHY we are Christians? Please give the song a sing-along listen, then come back and we'll talk.
Our elevator speech
Someone MIGHT hear us sing this song and ask, "WHY are you a Christian?" What an opportunity! Let's be ready for it. We don't want to reply with a deer-in-the-headlight look and say, "I'm not sure."
An elevator speech could be helpful. An elevator speech is a prepared "sales pitch" short enough to deliver during a quick elevator ride and interesting enough that the listener will say, "Tell me more."
Jesus's elevator speech
Did Jesus have an elevator speech? If we mean a short, attention-grabbing opener that leaves listeners wanting more, how about this record in Luke 4? Jesus is in the synagogue in Nazareth on the sabbath day and stands up to read from Isaiah:
"The Spirit of the Lord is upon me, because he has anointed me to preach the gospel to the poor; he has sent me to heal the brokenhearted, to preach deliverance to the captives, and recovering of sight to the blind, to set at liberty those that are bruised,
To preach the acceptable year of the Lord."
For his "elevator speech" he quoted scripture. (Not a bad idea!) Did it evoke interest from the listeners? Did they want to hear more? We read on:
"And he closed the book, and he gave it again to the minister, and sat down. And the eyes of all them that were in the synagogue were fastened on him. And he began to say unto them, This day is this scripture fulfilled in your ears."
Can you picture the listeners leaning forward in rapt attention as he handed the "book" back to the minister and sat down? They wanted to hear more! Perfect! What a brilliant, wonderful Lord!
Can we chat?
Do we need to expect hearts to pound, tempers to flair and veins to pop if we share about our Christian beliefs with someone? Of course not. Consider this from Peter's epistle: "Honor Christ and let him be the Lord of your life. Always be ready to give an answer when someone asks you about your hope — yet [do it] with gentleness and respect."
Here are the keys from I Peter 3:15:
1. Live your life with Christ as the Lord
2. Be ready to answer when someone asks
3. Be gentle
4. Be respectful
Why are you a Christian? Be ready with a brief, interesting answer. You could start by picking something in your life that is now better because Jesus is now your Lord. Have you seen any improvement in your outlook, attitude, faith, hope, love, health, forgiveness, purpose, prosperity, relationships or patience? Build an elevator speech around something Jesus has brought to your life that you are thankful for.
As you get clear on what you would tell someone who asks, you might be surprised how little time passes before someone asks you why you are a Christian. Tell them! It's how lives get changed! (And if people are slow to ask, you might try singing this song out loud. 😊)
God bless you lots!
-Dale R. 🙏💗😊
---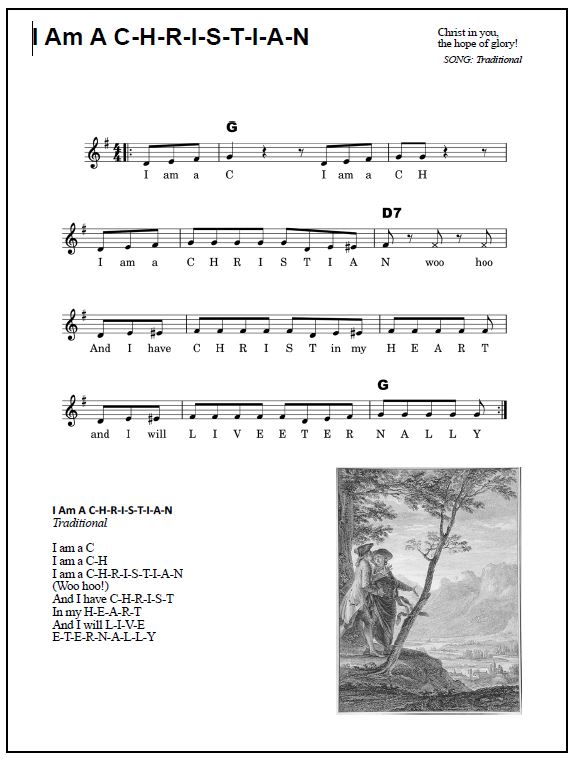 LYRICS: I Am A C-H-R-I-S-T-I-A-N
Traditional

I am a C
I am a C-H
I am a C-H-R-I-S-T-I-A-N
(Woo hoo!)
And I have C-H-R-I-S-T
In my H-E-A-R-T
And I will L-I-V-E
E-T-E-R-N-A-L-L-Y

Please share your elevator speech
Do you have ideas for a good elevator speech? Please share tips in "Leave a Reply" below.
Get a quick note ♫ when new songs appear!
Click "Get The Music Box" button [below] and tell me where to send a quick, cheerful note with link to new songs when I post them. You'll also get access to "The Music Box" — a free resource I maintain to help people navigate through more than 100 valuable Bible songs & lessons PLUS other goodies for music ministers, home schools, home churches and helps for aspiring guitar and uke players. I use the page myself. Give it a look. Let me send you the key to get in. All free – a labor of love to bless you and your family.
-Dale R.