Here's a fun song best sung as a group. Works with kids, young people and adults. Just singing this song moves a person toward joy and strength — in about a minute. Got a minute? Enjoy singing along, then please come back for more on JOY and STRENGTH in The Lord.
From strength to captivity
The book of Nehemiah leads to our song's title. Hundreds of years before the events recorded in Nehemiah, God had promised the children of Israel that they would live in peace and in strength if they would worship only Him as God and keep His commandments.
And God was also very clear that if they did not, they would lose the land and they would go into captivity or be killed by enemies.
In the years that followed, some of the time, the children of Israel DID worship and obey. When they did, they lived in strength, abundance and peace in a magnificent land.
But time and time again the leaders turned their backs on God and led the people to live in defiance of God, until one day the consequences caught up with them. Enemies came and prevailed, and many were killed and others carried away captive. Their cities were taken over or destroyed.
Nehemiah is the record of a miraculous return of a remnant of God's people back to Jerusalem. They were permitted to rebuild the temple and the walls of the city. During those days of rebuilding, Ezra and others gathered the remnant together and "read in the book in the law of God distinctly, and gave the sense, and caused them to understand the reading." (Nehemiah 8)
Many of us were raised in a time and place where we could freely gather with others to worship God, and be taught the scriptures, and easily get and read our own Bibles. But it was not that way for the children of Israel in those days. The remnant were aware that dishonoring God had led to their captivity, and they knew it was God's grace and mercy that made returning to rebuild the temple in Jerusalem possible.
But there was a lot of specific scripture they had not been taught, or they needed reminding of.
The ball got dropped
Way back when God had promised His people either peace and strength or defeat and captivity, He also gave them the following instructions. Think how different things would have been if only God's word had been listened to, remembered, and obeyed:
Hear, O Israel: The LORD our God is one LORD: And you shall love the LORD your God with all your heart, and with all your soul, and with all your might. And these words, which I command you this day, shall be in your heart: And you shall teach them diligently to your children, and shall talk of them when you sit in your house, and when you walk by the way, and when you lie down, and when you rise up. (Deuteronomy 6)
But many parents did not teach God's word to their children. That's one big reason the strongest kingdom eventually became weak and its people went into captivity.
We can understand the people's reaction that day when Ezra read to them the scriptures and explained what they meant.
They wept.
"For the people wept when they heard the words of the law"
They were not wrong to weep. There was a lot to weep about.
But look at God's kindness and goodness:
[Ezra] said unto all the people, "This day is holy unto the LORD your God; mourn not, nor weep." Then he said unto them, Go your way, eat the fat, and drink the sweet, and send portions unto them for whom nothing is prepared: for this day is holy unto our LORD: neither be ye sorry; "for the joy of the LORD is your strength."
The joy of the LORD is your strength.
Do you know what the people did? The Bible says all the people received those words, and stopped crying, and they ate and drank, and sent food to others in need — all this with great rejoicing.
What enabled them to stop crying and start rejoicing? We read:
"…because they had understood the words that were declared unto them."
Let's pay attention to the path God gave them to go from weeping to rejoicing: "…because they had understood the words that were declared unto them."
Awesome!
Look up
"Never stop learning" is probably good advice. But becoming older and wiser also makes us more aware of how much dumb stuff we've done that we could feel bad about.
Nehemiah teaches a great lesson of deliverance. God wants His people to know His word, to know right from wrong, and to do what is right. That day, God sent the people out to be blessed with His abundance and to bless others around them who were in need.
We can do the same. When we learn God's ways and SEE the error of our ways and weep, God regards that as "a holy day unto the Lord."
Wallowing in the guilt of our shortcomings gets little done. But turning to God's goodness and holiness, and accepting HIS grace and mercy with joy gives us strength and peace to live in the land God gave us.
Let's be strong and have joy in the Lord and in the power of HIS might!
God bless you lots
-Dale R.
---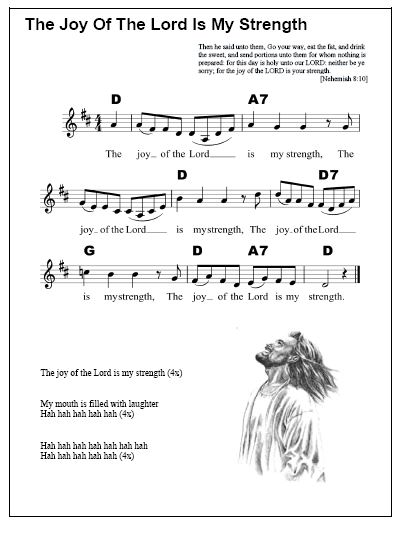 LYRICS: The Joy Of The Lord Is My Strength

The joy of the Lord is my strength (4x)

My mouth is filled with laughter
Hah hah hah hah hah (3x)
The joy of the Lord is my strength

Hah hah hah hah hah hah hah
Hah hah hah hah hah (3x)
The joy of the Lord is my strength


Your thoughts?
Please share your thoughts in the "Leave a reply" spot below.
Please subscribe – it will make both you and me happy!
May I drop you a brief, cheerful note when new songs and articles are posted here?

May I give you the link to print-ready song sheets you can download FREE?

Click the "Get The Music Box" button below and tell me where to send them. -Dale