Jesus Christ's strength and faithfulness is likened to "solid rock" — not only in this song, but also in the Bible, and in the personal experiences of countless millions of people in years past and even more today. Jesus is both unmovable and unstoppable. So whether we are trying to stay put or we are crying for change, Jesus Christ is the one to turn to. Please enjoy this classic gospel song, and come back for more!
Solid Rock
Deuteronomy 32 sums it up this way:
"Indeed their rock is not like our Rock; our enemies are fools."
Jesus might have had Deuteronomy 32 in mind when he told this parable recorded in Matthew 7:
"Everyone then who hears these words of mine and acts on them will be like a wise man who built his house on rock. The rain fell, the floods came, and the winds blew and beat on that house, but it did not fall, because it had been founded on rock. And everyone who hears these words of mine and does not act on them will be like a foolish man who built his house on sand. The rain fell, and the floods came, and the winds blew and beat against that house, and it fell—and great was its fall!"
Fast forward to Peter in Acts 4. Peter and John healed a man born lame. The healed man proceeded to walk, leap, and praise God in front of a big crowd gathering at the temple.
The religious leaders of the temple heard about the healing, and found Peter and John preaching about the resurrection of the dead through Jesus. So — these leaders arrested Peter and John and threw them in jail. (At this point, the Bible says, "many of them which heard the word believed; and the number of the men was about five thousand.")
The next morning the top brass of the Temple pulled Peter and John out of jail and demanded to know "by what power, or by what name, have ye done this?"
Legal advice
Harper Lee, author of "To Kill A Mockingbird" offers this pearl:
"Never, never, never, on cross-examination ask a witness a question you don't already know the answer to…"
I'm confident the leaders of the temple had not read Harper Lee's famous book or seen the movie, nor did they did know the scriptures or the power of God.
Acts 4 continues: Then Peter, filled with the Holy Ghost, said unto them, "You rulers of the people, and elders of Israel, if we this day be examined of the good deed done to the impotent man, by what means he is made whole, be it known unto you all, and to all the people of Israel, that by the name of Jesus Christ of Nazareth, whom you crucified, whom God raised from the dead, even by him does this man stand here before you whole. This is the stone which was set at nought of you builders, which is become the head of the corner. Neither is there salvation in any other: for there is none other name under heaven given among men, whereby we must be saved."
The Rock or the hard place
Jesus Christ is the rock of salvation and the firm foundation for life.
Life without Jesus Christ is a hard place.
There is no "in between" these two.
To each person, this choice is offered:
Stay in the hard place of fear and death
or
Choose life with Jesus Christ.
Someone might say, "It's not fair that we must die!"
We do well to realize it was not fair Jesus had to die. But he chose to die for each of us. Hebrews 2 describes Jesus' choice this way:
"[that] through death He [Jesus] might destroy him who had the power of death, that is, the devil, and release those who through fear of death were all their lifetime subject to bondage."
Dear Ones, the HARD choice was already made by Jesus Christ. He chose to obey his Father, to die for us, and now lives to give you and me life more than abundant.
Fear of death puts people in bondage for a lifetime.
Jesus Christ, THE ROCK gives life that smashes the fear of death now and for ever.
What a magnificent choice Jesus has given every person!
God bless you lots!
-Dale R
---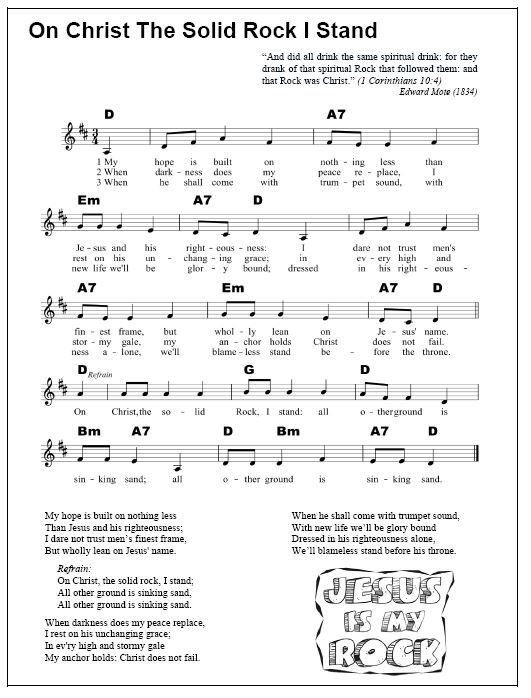 LYRICS: On Christ, The Solid Rock, I stand
Edward Mote (1834)

My hope is built on nothing less
Than Jesus and his righteousness;
I dare not trust men's finest frame,
But wholly lean on Jesus' name.

Refrain:
On Christ, the solid rock, I stand;
All other ground is sinking sand,
All other ground is sinking sand.

When darkness does my peace replace,
I rest on his unchanging grace;
In ev'ry high and stormy gale
My anchor holds: Christ does not fail.

When he shall come with trumpet sound,
With new life we'll be glory bound
Dressed in his righteousness alone,
We'll blameless stand before his throne.

What do you think?
Please jot a note in the "Leave a reply" spot below.
Let's stay in touch. Please subscribe!
More than 80 songs on this site now! Please accept my invitation to be part of this "sermon and song" gang, to watch it grow, to share with others, and to suggest ideas as things develop. AND did you know there is lots of free stuff for subscribers? Check it out by clicking the "Get The Music Box" button [below] and read the note I wrote there. God bless ya!!! – Dale