A lullaby is a quiet, gentle song to sing a child to sleep. Successful, happy parents probably have a few lullaby's in their tool kits. But what if it is a teen or adult that can't sleep? A lullaby that speaks truth can STILL be useful to bring us peace at any age. Please give "All Through The Night" a sing-along listen, and come back for a sleep talk.
Guardian angels
Home alarm companies sell "peace of mind" by promising to watch our homes for us when we can't. And it works! We cannot be sure they really are watching, but the belief they are gives us peace.
How much more peace we can enjoy knowing God watches His own and employs countless angels to help with the watching. I realize some think angels are not real, but the Bible certainly mentions them a lot! Some examples:
Revelation 5 records this vision: "And I beheld, and I heard the voice of many angels round about the throne and the beasts and the elders: and the number of them was ten thousand times ten thousand, and thousands of thousands" (minimum of 102 million angels!)
2 Kings 6 records Elisha and his servant being surrounded by enemy soldiers. Elisha said: "Fear not, for they that are with us are more than they that are with them." And Elisha prayed and said, "Lord, I pray thee, open his eyes, that he may see." And the Lord opened the eyes of the young man, and he saw; and behold, the mountain was full of horses and chariots of fire round about Elisha.
Matthew 26, Jesus in the Garden, about to be taken, says, "Or do you think that I cannot now pray to My Father, and He will provide Me with more than twelve legions of angels?" (Some say that would be about seventy-two THOUSAND angels!)
Angels may be available to someone in the book of Revelation, or to a major Old Testament prophet, or certainly to Jesus Christ, but how about for you and me? Hebrews 1 says: Are they not all ministering spirits, sent forth to minister for them who shall be heirs of salvation? Who are heirs of salvation? Romans 10 tells us how to be saved. Wouldn't God want to protect us, too? I'm sure He would.
When we sing "♫♪ Guardian angels God will send thee ♫♪" to help a child get peaceful and sleep, we can get in on the blessing too!
Be holy
Worry interferes with peace, and can keep us awake. Proverbs 3 teaches that the person who lives in God's wisdom can lie down, and not not be afraid, and "sleep will be sweet." Psalm 4 says "In peace I will lie down and sleep, for you alone, LORD, make me dwell in safety."
How do we learn God's wisdom? 1 Peter 1 offers a great key to help us replace worry with peace:
"Because it is written, Be ye holy; for I am holy."
The word "holy" might bring up pictures of stifling seriousness — because through the centuries many have turned "holiness" into harsh rules that beat the joy out of people and replaced it with fear and condemnation.
What a loss! When God says, "Be holy", He is NOT telling people to be stuffed shirts hiding in dark corners. Instead, He is saying:
"Live right,
which will make YOU a success,
and will make ME happy!"
When God says, "I am the Lord. Don't have other Gods", He is giving us the first step toward successful living. Every instruction He gives us sets us up to avoid trouble, and frees us up to live big for Him and for ourselves. When we live God's way we invite peace and confidence into our lives — AND we sleep better!
What does a holy life lived for God look like? Elisha demonstrates it is ANYTHING but dull and boring!
In 2 Kings 6, Syria was at war against God's people, Israel. Syria's army was getting beat, and the king was FURIOUS! He learned his battle plans were being leaked to Israel. God was telling His prophet, Elisha, where Syria's army would be, and Elisha told the king of Israel. That's why Syria was losing every battle. So Syria's king sent an army to capture Elisha. (I mentioned this scene when the Syrian army surrounded Elisha and his servant a few moments ago ?.) PLEASE treat yourself to reading 2 Kings 6 for the whole story on how Elisha disabled the entire enemy army, and did it in such a way Syria quit fighting with Israel. Amazing record!
Elisha was living holy as he listened to God and did what He said. And just look at how God worked with Elisha! Not a boring life! I'm sure Elisha was able to sleep at night, knowing God would take care of him.
Let's live like Elisha, in loving obedience, working for God, and have our own adventures with God. What an amazing way to live life — and to get a good night's sleep!
God bless you lots!
Dale R.
---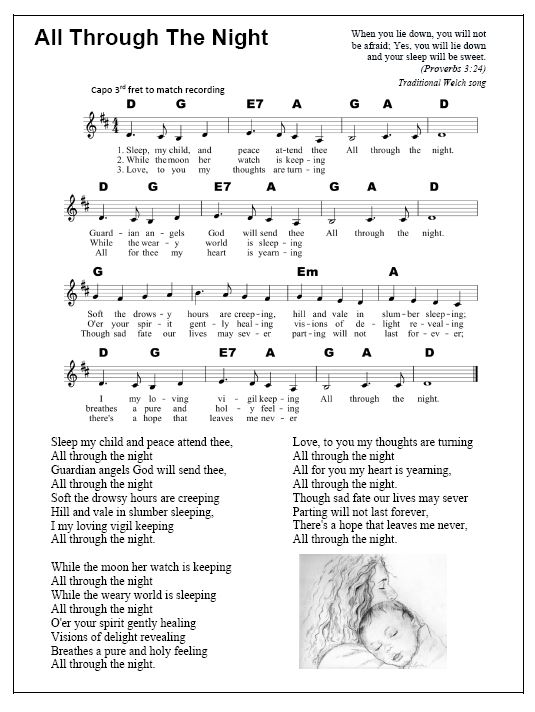 LYRICS: All Through The Night
Welch traditional

Sleep my child and peace attend thee,
All through the night
Guardian angels God will send thee,
All through the night
Soft the drowsy hours are creeping
Hill and vale in slumber sleeping,
I my loving vigil keeping
All through the night.

While the moon her watch is keeping
All through the night
While the weary world is sleeping
All through the night
O'er your spirit gently healing
Visions of delight revealing
Breathes a pure and holy feeling
All through the night.

Love, to you my thoughts are turning
All through the night
All for you my heart is yearning,
All through the night.
Though one day our lives may sever
Parting will not last forever,
There's a hope that leaves me never,
All through the night.

What do you think?
Please jot a note in the "Leave a reply" spot below.
Subscribe and get a cheerful note from me each week
I want you to be part of this "sermon and song" gang, to watch it grow, to share with others, and to suggest ideas as things develop. Yes??? AND there is even free stuff for subscribers. Check it out by clicking the "Get The Music Box" button [below] and read the note I wrote there. God bless ya!!! – Dale