I knew this song was a success even before I heard it. How? My wife learned it long ago in Sunday School and all these years later it still makes her happy — proof it's a good song for kids of all ages. It is an attitude song — GOOD attitude, positive. It borders on cheeky defiance toward the cynic and the doubter. It affirms "I count as much as anyone because I am who God says I am. I am a child of God. I am loved." It is super short, simple and loaded with childlike exuberance. Give it a sing-along listen, then let's talk more about various kinds of Bible promises and what they all have in common that helps make this song a little gem of wisdom and cheer.
Trouble in Paradise
When I first saw the lyrics of this song, I thought there must be some mistake. My problem? I could see lots of promises in the Bible that are not addressed to me. So I thought the song was all wrong. But my wife liked it, and she is smart. So I heated up a cup of "chapter-and-verse" tea and got to work. I was loaded for bear.
I am happy to report I received an answer of peace. I was wrong, she was right. It remains a good song.
Silly me — I had failed to read what was written. The song does not say "every promise is TO me." It says "every promise is mine." Big difference!
When I honestly asked how that could be true, the Book came to my rescue with an exciting answer. (Tip for happy living – invest at least as much effort into seeing how an idea could be useful as in showing where the idea would not work.)
RELIEF! I was so glad I did not have to tell all those children — or my wife — that they needed to quit being happy singing this song. The Bible changed my thinking so I could quit barking up the wrong tree. I enjoyed a fresh lesson in rightly dividing the word of truth – and in lightening up a little. Good things.
The Book is mine
I have good news. Happy news. Stunning news.
God gave us the Bible. The whole thing is a gift to each of us.
It is a personal gift — it brings light, joy and hope to every person who embraces it.
It is a huge gift — it took centuries to assemble. It took God's wisdom to say it. It is a miracle that so many people can each hold and read and learn from their own copy.
He gave it to us so we could know Him, His plans and His character,
that He is loving, gracious, merciful and just.
He gave it to us so we could know ourselves —
where we came from,
where we are and
where we are going.
He gave it to us so we could learn to recognize light and darkness, good and evil.
He gave it to us so we could know that in Jesus Christ we are able to live on the "inside" — as fellow citizens with the saints and members of the household of God.
What kind of fame and fortune could this world offer that would give you or me anywhere near THAT status? Not only did God gave us status, He TOLD us about it!
How should we feel about God's gift to us?
I think we can feel pretty good about that. How about you?
Our song captures that feeling, that attitude. It celebrates that you and I are IN! When He gave us the Book He invited us to be in the know! How cool is THAT?!?
Promises, promises
There are a lot of promises in the Bible — so many, in fact, they are hard to count. During his twenty-seventh reading of the Bible, a school teacher named Everett R. Storms of Kitchener, Canada tried to count and categorize all the Bible promises. Here is a partial summary of his findings:
Grand total of 8,810 promises:
7,487 promises from God to man
2 from God to Jesus Christ
991 from one man to another (such as the servants who promised to interpret King Nebuchadnezzar's dream)
290 from man to God
21 promises were made by angels
1 from a man to an angel
2 from an evil spirit to the Lord
9 from Satan (as when he promised the world to Christ if He would fall down and worship him)
What do ALL these have in common? They are all in the Book that God gave us. So they are all yours and mine to know, study, learn from and act on as appropriate.
But it is obvious they are not all promises TO you or TO me.
For example, here is one of the very first promises in the Bible: "You are cursed above all cattle, and above every beast of the field; upon your belly you shall go, and dust shall you eat all the days of your life."
Why isn't this promise from the Book ruining my day? Because it is one of many promises in the Bible not addressed TO ME. God was talking to the serpent, not to me: "And the LORD God said unto the serpent, Because you have done this, you are cursed above all cattle, ….
So, what makes this promise "mine"? It is mine because I can read it and learn from it. It is part of God's gift to me, His revelation we call the Bible.
He gave us the Book. Everything in the Book is ours to benefit from. We simply need to realize not everything in the Book is addressed to us. But we can learn from all of it.
Are some of the promises in that list TO US? Sure.
Are some addressed to others, but still FOR OUR LEARNING? Sure.
Are we thankful for the promise TO US of everlasting life? YES!
Are we thankful for the promise — FOR OUR LEARNING — TO the enemies of God that they will be dealt with justly? YES!
In short, "If God said it, I can use it." (See 2 Timothy 3:16-17.)
I'd miss a blessing if I didn't treat us all to a tiny smattering of many promises we rejoice in:
"I will never leave you nor forsake you."
"If you confess with your mouth the Lord Jesus and believe in your heart that God raised him from the dead, you will be saved"
"If any of you lacks wisdom, you should ask God, who gives generously to all without finding fault, and it will be given to you."
"If we confess our sins, he is faithful and just and will forgive us our sins and purify us from all unrighteousness."
"For the Lord himself shall descend from heaven with a shout, with the voice of the archangel, and with the trump of God: and the dead in Christ shall rise first: Then we which are alive and remain shall be caught up together with them in the clouds, to meet the Lord in the air: and so shall we ever be with the Lord."
"For God so loved the world that he gave his one and only Son, that whoever believes in him shall not perish but have eternal life."
As we gather years — and, I hope, wisdom — we see better that God has given us "exceeding great and precious promises" that we can learn and live now and always. Our song reminds kids — of all ages — to taste and see that the Lord is good, to reach for His promises to us and live abundantly as children of our Heavenly Father.
What a glorious life we've been given to be able to honor and praise Him. To that end, here is a happy little song you and I can sing with joy and gladness.
God bless you lots,
Dale R.
---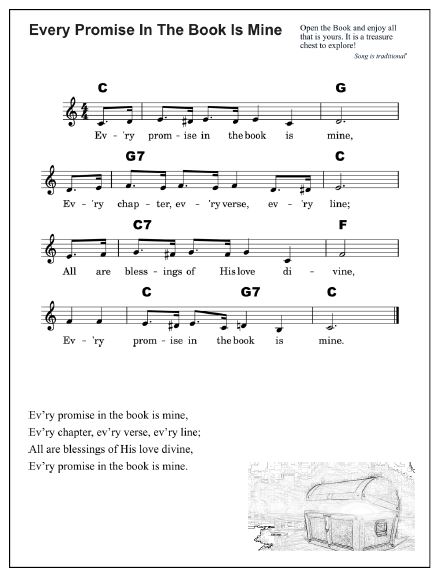 LYRICS: Every Promise In The Book Is Mine
Traditional

Ev'ry promise in the book is mine,
Ev'ry chapter, ev'ry verse, ev'ry line;
All are blessings of His love divine,
Ev'ry promise in the book is mine.

Click "Get The Music Box" button because …
You'll become part of a special circle of friends you cannot see from there who receive a brief friendly note from me when I post a new lesson and song. For over two years, that has been one note per week. Why doesn't the button read "Get a Friendly Note" ? Because you ALSO gain immediate, free access to a place that lets you download music sheets and audio files — and a few other goodies like a book of easy songs for guitar or ukulele to get you strumming yourself. That place is called … wait for it … "The Music Box". Click the blue "Get The Music Box" button and you are almost done. Easy to unsubscribe any time. Side reason to subscribe … I'd like to be able to stay connected with you in case we cannot meet on other media for some crazy reason. Be of good cheer! God bless you lots – Dale R.
Your thoughts, please
Leave a comment in "Leave a reply" below. Do you like what you see here? Can you add more to clarify what I wrote? Amplify? Please … feel free. THANKS! -D