From memory, can you rattle off the books of the New Testament? If not, here's a song to help. Sing along, memorize the song — that's it! Give the song a look, then come back and we'll look at a proven method of having a personal audience with The Lord.
How to read the Bible
Open Bible
Read
Repeat
Simple as that sounds, not everyone has discovered this secret.
I understand!
I love good Bible teachings — passionate, brilliant, insightful guided tours into familiar — and not so familiar — words in the Bible.
I love carrying bite-size "Bible to go" in the form of favorite Bible verses that let me remember and share its truths and treasures.
DO hear good Bible teachings. Do find and memorize great verses. ABSOLUTELY!
The point, though, is there remains yet another delicious, powerful and unique way to connect with God personally through scripture, and that is:
Read it yourself
and
Read it all the way through
In order to begin AND finish, it can help to read with a plan and read with a purpose.
Read with a plan
BASIC PLAN:
Start at the beginning and read to the end. You might do well to read the entire New Testament first, and then the Old Testament.
SCHEDULE or PACE:
You can find many reading plan SCHEDULES on the internet. Search for "Bible reading plan". Some plans break up the reading so you mix a little Old Testament, Gospels, Epistles, etc. on different days. That's fine, but I suggest that the simplicity and continuity of reading straight through from beginning to end offers unique benefits. But, by all means, choose a plan YOU would enjoy following and finishing. I encourage you to PRINT a plan with dates and chapters for each day's reading. If you can't print a plan, then here is a PACE you can use:
TO READ THE ENTIRE BIBLE IN ONE YEAR:
read 3 chapters every day for 11 months; and
read 4 chapters every day for 1 month
TO READ THE NEW TESTAMENT IN 3 MONTHS:
read 3 chapters every day
TIP: Don't be concerned when you read things you don't completely understand. Keep reading. Of course you can come back and do extra research, but don't let it interrupt your reading schedule.
Read with a purpose
Just reading with the purpose of surveying the content of the Bible is enlightening beyond words, and I encourage everyone to do that at least once.
But more purpose can be added, especially on the next readings.
LOOK FOR TIME & PLACE
Years ago I heard a young man stand up and do a history of the entire Old Testament in just 45 minutes. I was so new to all this, I didn't know people could READ the Old Testament, let alone summarize its historical content. He shared his secret to learning all that.
1) He read it. (Okay, we are beginning to learn THAT trick!)
2) He had an Oxford Bible Atlas at his side, and he looked up places on its maps as he read. Effort, certainly, but amazing results — long before he was old and gray! He developed a sense of time and place, and learned to teach it. What a treasure! What a foundation to build on!
LARGE THEMES
While reading, be aware of what kind of material you are in. For example, in Luke 24:44 Jesus divides the entire Old Testament into three groups:
LAW, PROPHETS and PSALMS (or "writings"). Notice these when you read.
II Timothy 3:16 says all scripture is instruction in righteousness, as doctrine (how to believe rightly), reproof (getting wrong practice back to the doctrine) and correction (getting wrong teaching back to the doctrine). These are things to watch for when reading.
Romans 15:4 offers the idea that the Bible can be divided into two kinds: writings addressed TO us as Christians and writings FOR our learning. For example, modern readers might look at Leviticus, scratch their heads, and wonder if it's worth the time to read. Even though a lot of Leviticus is "FOR our learning" and not TO us today, still what we can learn about God's heart and governance is HUGE. There is no "fly-over country" in the Bible.
We can notice large themes in books, for example:
Mathew presents Jesus Christ as God's King
Mark presents Jesus Christ as God's Servant
Luke presents Jesus Christ as God's Man
John presents Jesus Christ as God's Son
Acts is the historical transition between the Old and New Testaments
Romans: doctrine and a theme of FAITH
Corinthians: reproof related to Romans doctrine
Galatians: correction related to Romans doctrine
Ephesians: doctrine and a theme of LOVE
Philippians: reproof related to Ephesians doctrine
Colossians: correction related to Ephesians doctrine
Thessalonians: doctrine and a theme of HOPE
Read with a goal
Whether you are new to the Bible or have been in church for years, I am confident you will be thrilled by simply reading The Book from front to back. That's a great goal to roll with.
If you want an extra challenge just for fun, here's one:
Jot down one brief thought from each BOOK as you read it. (See suggestions in the notes above.) In a later reading, fill in the list with an idea from each CHAPTER. You might remember the verse John 3:16 from that chapter. You might remember II Corinthians 5 has "ambassadors". You might remember I Chronicles 1 – 9 has "a lot of names". Get some of this in your head, and you can survey the Bible with your eyes closed while drifting off to a sweet, peaceful sleep.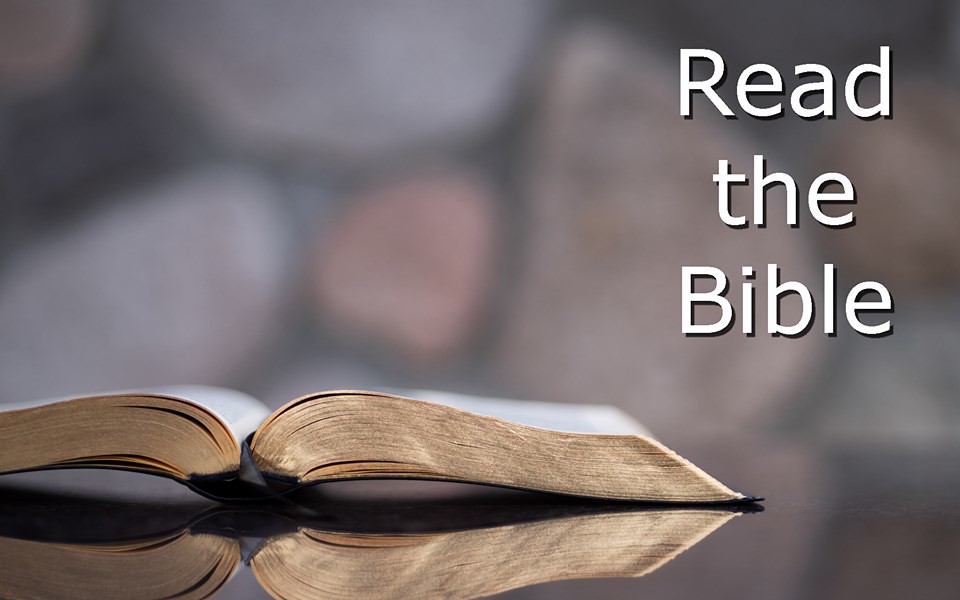 God bless you lots!
-Dale R.
---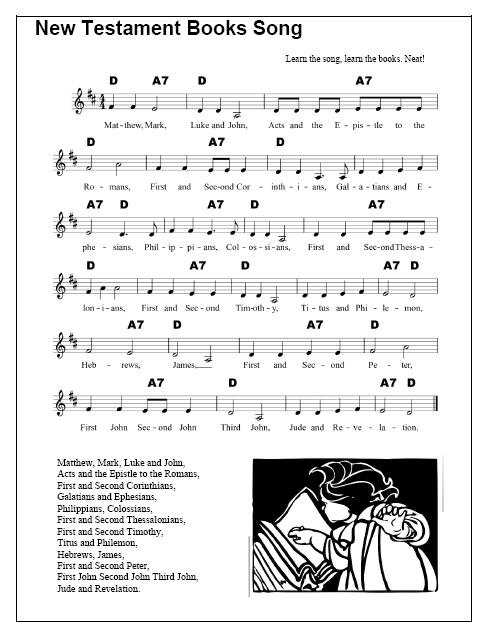 LYRICS: New Testament Books Song

Matthew, Mark, Luke and John,
Acts and the Epistle to the Romans,
First and Second Corinthians,
Galatians and Ephesians,
Philippians, Colossians,
First and Second Thessalonians,
First and Second Timothy,
Titus and Philemon,
Hebrews, James,
First and Second Peter,
First John Second John Third John,
Jude and Revelation.

Your thoughts?
Please share your thoughts in the "Leave a reply" spot below.
Why subscribe to this song site?
Subscribers get a note from me when new songs are posted here
and
Subscribers are given the key to download print-ready song sheets and mp3 audio files.

Click the "Get The Music Box" button below and see the quick and easy next step.