Earlier I posted this same hymn set to a different "traditional" melody. The "Adeste Fideles" tune used here might be more familiar to you. What might not be familiar is the third verse. Please watch the sing-along video — then we'll talk about God's School of Gold Refining .
WHAT gold is it God would refine?
Why — gold that's yours and gold that's mine! ?
No weenies, no rebels
This world is a tough place to live. How can a parent help a kid learn to live in such a jungle?
On one extreme a parent might try to shield a child from every challenge the world offers.

On the other extreme a parent might try pushing a child off every cliff so they learn to fly on their own
Too much shielding and the child can become a weenie.
Too much pushing and the child can become a discouraged rebel.
A wise parent seeks a happy balance somewhere in the middle.

God's gold refinery
The third verse of "How Firm A Foundation" sings of fiery trials that consume dross and refine our gold. "Dross" can mean:
Waste or impure matter;
Scum that forms on the surface of molten metal as a result of oxidation;
Worthless, commonplace, or trivial matter.
Heating gold until it melts causes impurities to float to the surface so the impure matter can be removed. What a beautiful illustration for "real life" learning. Hebrews 12 walks us through one part of God's perfect parenting called "chastening". Here are some highlights:
Learn from those who came before us in order to avoid mistakes that would hold us back from PATIENTLY RUNNING THE RACE set before us.
Look at Jesus and learn endurance.
Receive the "chastening", the instruction and correction, from the Lord, knowing it is for our profit "that we might be partakers of his holiness". These are lessons on learning to live COMPLETE IN CHRIST.
People who read and understand the meaning of this section for themselves find they want to get in on the lessons! Who wouldn't?!? Colossians says it is "Christ in you, the hope of glory". What a great teacher we have so very near!
Who better can we trust to show us how to live life big for God? What a privilege we have as children of The Most High.
God bless you lots!
-Dale R.
---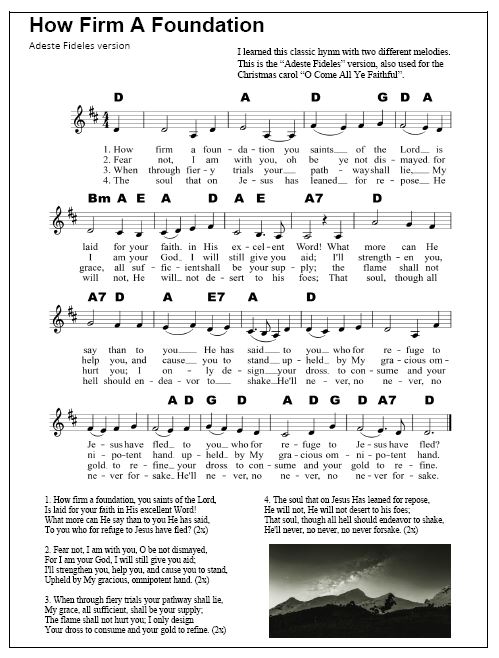 LYRICS: How Firm A Foundation
Author: K. (1787)

1. How firm a foundation, you saints of the Lord,
Is laid for your faith in His excellent Word!
What more can He say than to you He has said,
To you who for refuge to Jesus have fled?

2. Fear not, I am with you, O be not dismayed,
For I am your God, I will still give you aid;
I'll strengthen you, help you, and cause you to stand,
Upheld by My gracious, omnipotent hand.

3. When through fiery trials your pathway shall lie,
My grace, all sufficient, shall be your supply;
The flame shall not hurt you; I only design
Your dross to consume and your gold to refine.

4. The soul that on Jesus Has leaned for repose,
He will not, He will not desert to his foes;
That soul, though all hell should endeavor to shake,
He'll never, no never, no never forsake.

Please share your thoughts
Have you come through difficult times with God's help and been stronger for it? Jot a note in the "Leave a reply" spot below.
Free for subscribers
The Music Box is free for subscribers. I think it is under-priced, but you might disagree. Please give it a look, and let me know what you think. ?
Please subscribe! Click "The Music Box" button [below] to instantly get quick and easy instructions on the next step. -Dale R.