Sometimes fears and worries whirl in our minds like a dog chasing his tail. We churn and burn and get nowhere. We can fix that kind of scatter by switching our gaze to the Lord. In prayer we can hand Him our messy thought basket and ask Him which of the many concerns belong to Him to fix and which — if any — are ours to work on. We release to Him the ones He claims, and we get busy on what He tells us to do to resolve the issues that remain.
Our song, "The Lord Is My Shepherd (Psalm 23)" helps us be bold and confident as we bring our requests to the Lord because it teaches us about His character and ability to help every one of His children in every circumstance for all times. Give the song a listen, them come back for a look at the amazing depth of teaching the six verses of Psalm 23 bring us.
Redemptive names of God
God has different names in the Bible that describe Him and help us know Him better. For example, Psalm 23:1 says "The Lord is my shepherd". The Hebrew words are "Jehovah-RO'I". This is one of about a dozen or more redemptive names of God used in the Bible. "The Lord is my shepherd" is a fitting name because He shepherds His people. He takes care of them.
The verse continues with: "I shall not want." In Genesis, God is called "Jehovah-JIREH", which means "The Lord who sees and provides." Since God sees and provides, "I shall not want". Though "Jehovah-JIREH" does not appear in Psalm 23, the IDEA conveyed in this redemtive name of God DOES appear in the words "I shall not want".
In this manner, in just 6 verses, Psalm 23 describes God in at least ten different ways that line up with ten of His redemptive names found in the Bible. This one Psalm teaches a lot about God's character and wonderful love, ability and commitment to provide for His own. No wonder people love the 23rd Psalm so much!
Ten names referred to in six verses
Compare Psalm 23 and these redemptive names for the Lord:
The LORD is my shepherd;
JEHOVAH-RO'I – The Lord my Shepherd
(Psalm 23:1)
I shall not want.
JEHOVAH-JIREH – The Lord who sees and provides.
(Genesis 22:14)
He maketh me to lie down in green pastures: He leadeth me beside the still waters.
JEHOVAH-SHALOM – The Lord gives peace
(Judges 6:24)
He restoreth my soul:
JEHOVAH-ROPHEKA – The Lord that heals you
(Exodus 15:26)
He leadeth me in the paths of righteousness for His name's sake.
JEHOVAH-ZIDKENU – The Lord our righteousness
(Jeremiah 23:6)
Yea, though I walk through the valley of the shadow of death, I will fear no evil: for Thou art with me; Thy rod and thy staff they comfort me.
JEHOVAH-SHAMMAH -The Lord is there
(Ezekiel 48:35)

Thou preparest a table before me in the presence of mine enemies:
JEHOVAH-NISSI – The Lord my banner of victory
(Exodus 17:15)

Thou anointest my head with oil;
JEHOVAH-MEKADDISHKEM – The Lord that sanctifies you
(Leviticus 20:7,8)

My cup runneth over.
JEHOVAH-MANAH – The Lord my portion
(Psalm 16:5)

Surely goodness and mercy shall follow me all the days of my life: and I will dwell in the house of the LORD for ever.
JEHOVAH-CHELEQ – The Lord my inheritance
(Psalm 119:57)
Fear not, for I am with you
God's promise in Isaiah 41 still stands: "Fear not, for I am with you; be not dismayed, for I am your God; I will strengthen you, I will help you, I will uphold you with my righteous right hand." How beautifully and powerfully God's promise in Isaiah is amplified in Psalm 23.
Our song "The Lord Is My Shepherd" weaves the characteristics described in those ten redemptive names into its lyrics. Can you spot them all? The song can help us remember the lessons of Psalm 23.
When someone asks, "How are you?" — regardless how we think our day is going — our answer can honestly be "I am BLESSED!" Amen?!?
God bless you LOTS!
-Dale R.

---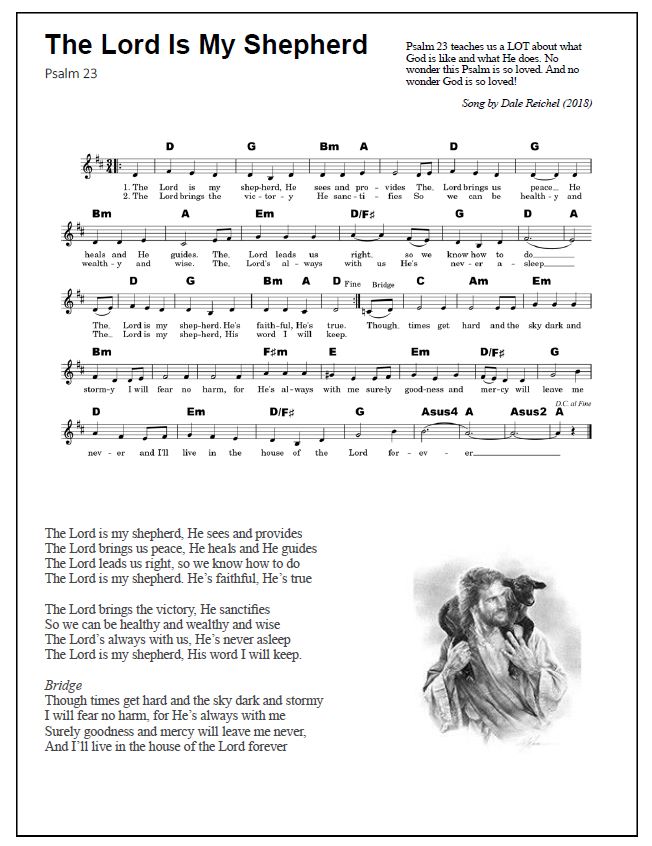 Get this music page free at "The Music Box"
LYRICS: Psalm 23 – The Lord is My Shepherd
Song by Dale Reichel

The Lord is my shepherd, He sees and provides
The Lord brings us peace, He heals and He guides
The Lord leads us right, So we know how to do
The Lord is my shepherd. He's faithful, He's true

The Lord brings the victory, He sanctifies
So we can be healthy and wealthy and wise
The Lord's always with us, He's never asleep
The Lord is my shepherd, His word I will keep.

BRIDGE:
Though times get hard and the sky dark and stormy
I will fear no harm, For He's always with me
Surely goodness and mercy will leave me never,
And I'll live in the house of the Lord forever

Get a quick note ♫ when new songs appear!
Click "Get The Music Box" button [below] and tell me where to send a quick, cheerful note with link to new songs when I post them. You'll also get access to "The Music Box" — a free resource I maintain to help people navigate through more than 100 valuable Bible songs & lessons PLUS other goodies for music ministers, home schools, home churches and helps for aspiring guitar and uke players. I use the page myself. Give it a look. Let me send you the key to get in. All free – a labor of love to bless you and your family. -Dale R.
Please share your thoughts
How are you today?!? Please add to this page by jotting a note in "Leave a Reply" below.
History of posts for this song:
12/30/2018 — Song and article published — First song posted on MusicMinister site
1/27/2021 — New recording and updated article published
12/30/2022 — Song and article from 1/27/2021 reposted on occasion of 4th Anniversary of MusicMinister songs site