This classic hymn is a prayer of agreement with the Lord and His wonderful design for our lives. It conveys the kind of heart Bible greats like Mary, Solomon, Jabez — and certainly Jesus Christ himself — modeled for us. Please give the song a sing-along listen, and come back for a chat about agreeing to do what the Lord designed us to do.
Be it unto me according to Thy word
Do you think we have any business telling the Lord what to do? Probably not. Yet every verse of this hymn seems to start by doing exactly that. Look —
Lord, speak to me
Lord, employ me
Lord, lead me
Lord, teach me
Lord, fill me
Are these questions or instructions? I don't see any question marks!
They are not questions, and they are not instructions. These are requests set in a style that has us emphatically agreeing with — and welcoming — what the Lord wants to do in us and with us. And each request is followed with the same reason for asking: "So I can serve others."
It seems Mary talked just like this song does: "…Behold the handmaid of the Lord: be it unto me according to thy word." Mary says, "Lord, look at me". Was she telling the Lord what to do? No, this manner of speaking is a request in harmony with the will of the Lord.
I think most people understand this kind of talking. But some might miss the emphasis it adds. I wanted to be sure you paused and enjoyed it.
Beautiful!
Enlarge my border
Mary shares the Bible stage with so many others.
Solomon, when given the throne, said to the Lord, "…Give your servant a discerning heart to govern your people and to distinguish between right and wrong". We read that his request pleased the Lord.
"Give me wisdom so I can serve." Good request!
"Jabez called upon the God of Israel, saying, 'Oh that you would bless me and enlarge my border, and that your hand might be with me, and that you would keep me from harm so that it might not bring me pain!' And God granted what he asked" (1 Chronicles 4:10).
Bless me.
Enlarge my border (territory).
Be with me.
Keep me from evil.
Again, there were no questions marks in the text, but the Bible says Jabez was asking. It is a request — a request which must have been in harmony with the will of the Lord, because it says "God granted what he asked." The Bible says Jabez was more honorable than his brothers. Good request!
One of the most powerful examples of stating a request is in Mark 14:
And he [Jesus] said, "Abba, Father, all things are possible for you. Remove this cup from me. Yet not what I will, but what you will."
Our song's language and heart is like we see in these examples. These are requests in harmony with the will of the Lord, made by a person who is ready and willing to serve.
Beautiful!
Designed with purpose
Computers are built to serve.
Whether a computer serves to advance great causes or only to amuse, detract from or distract a loner depends on choices its operator makes.
Christians are built to serve.
Whether a Christian serves to advance great causes or — or doesn't — depends on choices the Christian makes.
Paul wrote, "For we are his workmanship, created in Christ Jesus unto good works, which God hath before ordained that we should walk in them."
For those who have the healthy desire to want to live a meaningful life, Paul's words bring marvelous news.
We are built for meaning. The Lord has created, equipped, designed and enabled us to do good works. He has not built us to be loners or losers or dummies or duds. He built us to be more than conquerors through Him that loved us.
Do you believe the Lord wants to speak to, to employ, to lead, to teach and to fill you and me? Then we can agree, we can declare — we can request, "Count me in! Be it unto me according to your will!"
And, of course, we can sing, "Lord, speak to me that I may speak."
God bless you lots!
Dale R.
---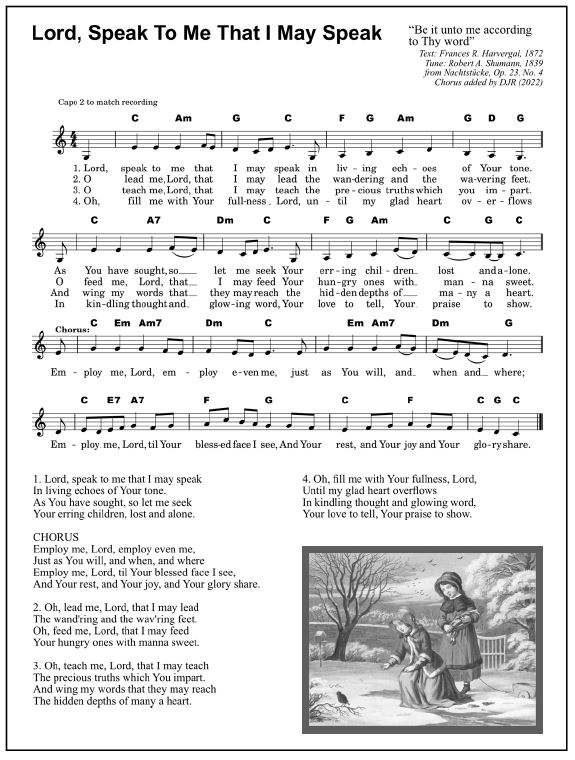 Download this song sheet from "The Music Box"
LYRICS: Lord, Speak To Me That I May Speak
Text: Frances R. Harvergal, 1872
Tune: Robert A. Shumann, 1839
from Nachtstücke, Op. 23, No. 4
Chorus added by DJR (2022)

1. Lord, speak to me that I may speak
In living echoes of Your tone.
As You have sought, so let me seek
Your erring children, lost and alone.

CHORUS
Employ me, Lord, employ even me,
Just as You will, and when, and where
Employ me, Lord, til Your blessed face I see,
And Your rest, and Your joy, and Your glory share.

2. Oh, lead me, Lord, that I may lead
The wand'ring and the wav'ring feet.
Oh, feed me, Lord, that I may feed
Your hungry ones with manna sweet.

3. Oh, teach me, Lord, that I may teach
The precious truths which You impart.
And wing my words that they may reach
The hidden depths of many a heart.

4. Oh, fill me with Your fullness, Lord,
Until my glad heart overflows
In kindling thought and glowing word,
Your love to tell, Your praise to show.

Let's stay in touch
Each time I post a new song and lesson here I send a brief, cheerful note to friends of this song site. The note gives a quick description of the song and lesson along with a link to the new song's page. It is super-easy for you to get a note from me, too. Just click the green "Song of the Week" button below and you are almost there. Easy! You'll also get instant access to the "Music Box" where I put all the free resources and downloads that go along with these song pages. Check it out now! Good stuff.
Share your thoughts
Feel free to jot a note about this song page in "Leave a reply" [below].