This delightful little song can lift tons of burden off our backs if we'll let it remind us how huge salvation is compared to whatever worries trouble us. Please enjoy a sing-along listen, and come back for more.
Prophets of old didn't know
I Peter 1 tells us prophets of old got glimmers of the salvation to come, but, try as they might, they just could not see it clearly. Romans 16 tells us it was a secret kept from THEM, but now revealed to US. Why was it revealed to us and not them?
God kept the secret until Jesus left that garden tomb in victory. Only then could the greatness of salvation be proclaimed. When God raised Jesus Christ from the dead IT MADE A DIFFERENCE! We can be very thankful to be living when we do!
I Corinthians declares if God's enemies had known how big salvation was going to be that they would not have crucified the Lord of Glory. Colossians exclaims how big our salvation really is: it is CHRIST IN YOU THE HOPE OF GLORY. The devil never dreamed he would have to deal with a world filled with "Christ-in" people. When we live as "Christ-in" people we bring the light of salvation to the world and add to Satan's headaches. How wonderful!
What could be bigger?
We live in times with plenty to worry about. But when we consider how great salvation is, what can keep us down?
There is an art to replacing gloomy thoughts with great ones. Part of the art is to KNOW some great thoughts. Salvation has got to be among the greatest for us! The more we learn about salvation,
about going from death to life,
about the perfect bodies and health we will someday have,
about living in the glorious presence of God Almighty in joy, peace and love,
about living right now with "Christ in us, the hope of glory"
— the more today's worries shrink in importance. Our days can be bright!
Finished work
I first heard this song many years ago — but it was "Roll Away" not "Rolled Away". Apparently the past tense — "rolled" — is the original version. It sounds odd singing "rolled away" but it is growing on me.

"Roll away" reminds me to push back against things that bother me today.

"Rolled away" reminds me that JESUS ALREADY SOLVED the BIG PROBLEM by defeating death, which helps me switch to brighter thoughts and get busy seeing who I might be able to help.

I like both versions of the song! We used to sing "Roll Away" at camp when dinner was done and it was time to "roll away" or clear the tables. I'll always enjoy remembering that and now I'll also think of the salvation Jesus won for us– his wonderful FINISHED WORK for us and in us. What a happy song!
God bless you lots!
Dale R.
---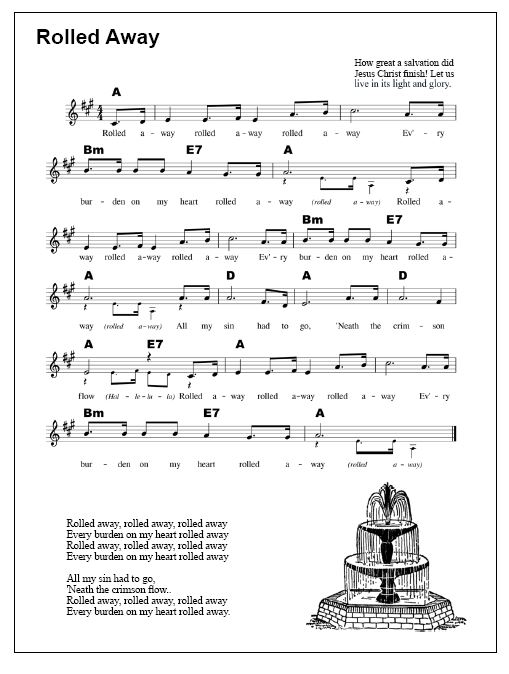 LYRICS: Rolled Away
Author unknown

Rolled away, rolled away, rolled away
Every burden on my heart rolled away
Rolled away, rolled away, rolled away
Every burden on my heart rolled away
All my sin had to go,
'Neath the crimson flow..
Rolled away, rolled away, rolled away
Every burden on my heart rolled away.

Your thoughts?
Please share your thoughts on "Rolled Away" in the "Leave a reply" spot below.
Please subscribe!
When I post a new song and article I send subscribers a brief note with a handy link that whisks them straight to the new song's page.
May I drop YOU a note when new songs are posted here?
Subscribers also receive the key to "The Music Box" which is a resource to help them get the most out of the Music Minister sermon & song collection. Want to hear just "bedtime songs" or "wake-up songs" in a playlist? Find them and more in "The Music Box". Neat!
I put goodies in "The Music Box" that only subscribers learn about through my cheerful email notes to them. Subscribe and go on your own treasure hunt!
It's all free. So why subscribe? Subscribing allows us to stay in touch even if social media gets fussy with us believer types and decides it doesn't like our kind. No worries, I don't share anyone's addresses, and you can unsubscribe at the bottom of any email I send. Super easy!
I put a great "What's Available" chart on the HOME page if you want to see more details on "The Music Box". Go take a look if you are curious and THEN subscribe!!
Sound good to you? Click the "Subscribe" button below for simple instructions. PLEASE SUBSCRIBE!
THANKS! – Dale R.