The Bible is a book of contrasts that requires our best thinking. Romans 12 coaches us to live peaceably with all men. A few pages later, 2 Corinthians 6 warns us not to be unequally yoked together with unbelievers, and challenges us with the question, "What fellowship has righteousness with unrighteousness?" So do we make nice or make war? Our song poses a way to combine making nice with making war so that everyone can win. Please give it a listen, then come back for more on winning, winning, winning.
We are in a war
Beginning with Adam, everyone has had to decide which side to fight on — either:
1. Bow to the spirit of the times or
2. Bow to the Spirit of God
These two groups cannot sustain peace with each other.
How would a person bow to the spirit of the times? Isaiah's "woe words" in chapter 5 confront "those who call evil good, and good evil; Who put darkness for light, and light for darkness; Who put bitter for sweet, and sweet for bitter!" This behavior is typical those who oppose God.
How would a person bow to the Spirit of God? Romans 12 says, "And be not conformed to this world: but be transformed by the renewing of your mind, that you may prove what is that good, and acceptable, and perfect, will of God." We can be at peace fellowshipping with others who are seeking to prove what is good and acceptable to God.
Here is the question: What is good, and acceptable and perfect behavior toward people who oppose God? Should we seek their destruction?
Win-win
Acts 26 records Paul saying: "To open their eyes, and to turn them from darkness to light, and from the power of Satan unto God, that they may receive forgiveness of sins, and inheritance among them which are sanctified by faith that is in me." Here, Paul shows us a better way than killing the enemy, better than avoiding the enemy, better than fearing the enemy — WIN THEM TO GOD'S SIDE. Help people switch from bowing to this world to bowing to God. They win. We win. God wins. Only the devil loses. That adds up to four positives!
Light swallows up darkness
Our song is a prayer that God's light will come to dispel darkness and bring deliverance. It is also a prayer that WE will reflect His light to win others, not becoming tired or discouraged. God has given us the most important victory through the promise of everlasting life. What better way to thank God than to spend our days here helping others defect from the clutches of the enemy and become children of light?!? What a wonderful change to go from being an enemy of God to becoming a beloved member of God's family! Let's help people make that leap to the best of our ability. Some will not accept this grace and mercy. God knows and sees and will address that Himself. But with those who step out of darkness into God's marvelous light, we can enjoy peace.
"Send The Light" is a wonderful song to sing loud and often as we march through the turmoil of this world and do everything we can to help people turn from darkness to light and from the power of satan unto God. Let us pray that grace may everywhere abound. Send the light!
God bless you lots,
Dale R.
---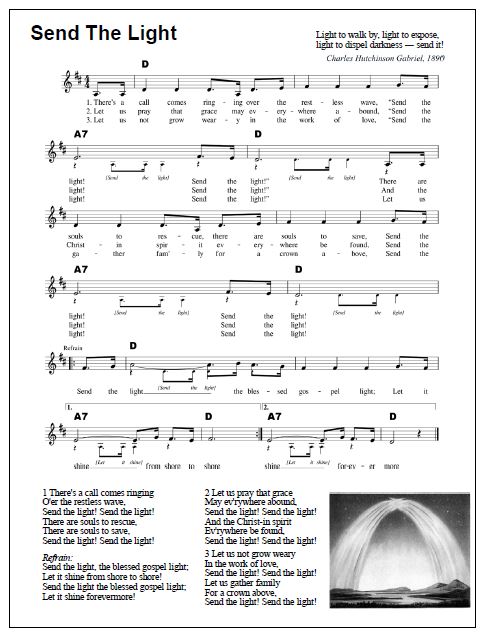 Get this — and other — song sheets free from The Music Box
LYRICS: Send The Light
Hymn by Chas. H. Gabriel (1890)

1 There's a call comes ringing
O'er the restless wave,
Send the light! Send the light!
There are souls to rescue,
There are souls to save,
Send the light! Send the light!

Refrain:
Send the light, the blessed gospel light;
Let it shine from shore to shore!
Send the light the blessed gospel light;
Let it shine forevermore!

2 Let us pray that grace
May ev'rywhere abound,
Send the light! Send the light!
And the Christ-in spirit
Ev'rywhere be found,
Send the light! Send the light!

3 Let us not grow weary
In the work of love,
Send the light! Send the light!
Let us gather family
For a crown above,
Send the light! Send the light!

Your thoughts?
Please share your thoughts on "Send The Light" in the "Leave a reply" spot below.
Please subscribe!
When I post a new song and article I send subscribers a brief note with a handy link that whisks them straight to the new song's page.
May I drop YOU a note when new songs are posted here?
Subscribers also receive the key to "The Music Box" which is a resource to help them get the most out of the Music Minister sermon & song collection. Want to hear just "bedtime songs" or "wake-up songs" in a playlist? Find them and more in "The Music Box". Neat!
I put goodies in "The Music Box" that only subscribers learn about through my cheerful email notes to them. Subscribe and go on your own treasure hunt!
It's all free. So why subscribe? Subscribing allows us to stay in touch even if social media gets fussy with us believer types and decides it doesn't like our kind. No worries, I don't share anyone's addresses, and you can unsubscribe at the bottom of any email I send. Super easy!
I put a great "What's Available" chart on the HOME page if you want to see more details on "The Music Box". Go take a look if you are curious and THEN subscribe!!
Sound good to you? Click the "Subscribe" button below for simple instructions. PLEASE SUBSCRIBE!
THANKS! – Dale R.