"Trust and Obey" is a lovely hymn from the late 1800's that reminds us that there is more to life than just knowing things. To live big in any field, especially for the Lord, we'll have to act on what we know. Give the song a sing-along listen then we'll talk about knowing and doing.
Faith and works
Elsewhere on this song site you can find songs about the new birth being a gift we receive by faith, not by our own works. "Trust and Obey" is not a song about how to get born again. It is a song addressed to people who have already confessed Jesus as Lord and believed God raised him from the dead — in other words, people who are already saved, already born again. This song gets into what we read in James 2 — "For as the body without the spirit is dead, so faith without works is dead also." It turns out there are many wonderful things the new birth makes available to people, but only when they act.
Learn … and then receive by doing
Here are some examples of things from the Bible where it is not enough just to know the verse — examples of things where action is required to receive the benefit.
1. "Be anxious for nothing, but in everything by prayer and supplication with thanksgiving, let your requests be made known unto God; and the peace of God shall keep your hearts and minds …" . We could know the verse, memorize and quote it – but to get the promised peace, we actually need to obey its instructions and do what it says.
2. No doubt you have heard of the "whole armor of God". The purpose of the armor is, "that you may be able to withstand in the evil day, and having done all, to stand". Look at all these instructions about action required on our part —
"Take unto you the whole armor"
"Stand"
"Having your loins girt about with truth"
"Having on the breastplate of righteousness"
"[Having] your feet shod with the preparation of the gospel of peace"
"Taking the shield of faith"
"Take the helmet of salvation"
"[Take] the sword of the spirit"
"Praying always …"
We could read all about this, but just reading it won't enable us to withstand in the evil day and stand. It says "having done all". See it? Do it to receive the benefit.
3. As we read about benefits promised in the Bible and look for any action required on our part, we'll quickly learn of things we can do to live bigger for the Lord. We read that we are "created in Christ Jesus unto good works" — so we should learn about good works and do some. We read "forget not all His benefits" — so let's notice some of His benefits and remember them. We read "know them that labor among you in the Lord, and esteem them very highly in love for their works sake" — here we are to "know" and to "esteem". We read "be at peace among yourselves" — according to this verse, peace among us is available. If we don't have it, could it be because we are not doing what makes for peace?
Work — what a blessing
Can you imagine trying to use bicycle which was missing handlebars and pedals? Using a shovel that does not have a handle? How about a phone with no buttons of any kind? How about a piano with no keyboard? Here I'm not talking about new inventions — just the regular "garden variety" items we use every day, but missing the controls needed to make them work. What if you could not "do" anything with them to make them go? Bikes are designed with pedals and handlebars so we can make them move and turn. Shovels have handles so we can move the blade as needed. Phones have buttons so we can make them do what they do. Pianos have white and black keys so we can play the notes we want at the time we want.
God designed our lives like that. We don't just observe life through the glass of a display case. We get to "pedal and steer" — we get to move our earthen vessel, make decisions, change our minds and move our hands and feet to serve the Lord. He tells us what is available and He tells us how to receive. We can do things! We can bring light to dispel darkness. We can bring comfort to restore courage. We can bring hope to aid endurance. We can bring life to others who Jesus Christ died for, just as someone did for us. We can cultivate love, joy, peace, longsuffering, gentleness, goodness, faith, meekness, temperance … what a life! So very much can be done because the Lord made us very able to do.
We can also choose to do nothing — but, really, how COULD we do that? What fullness of life and what blessings are added when we both learn and do — when we choose both to trust … and obey.
God bless you lots!
-Dale R.
---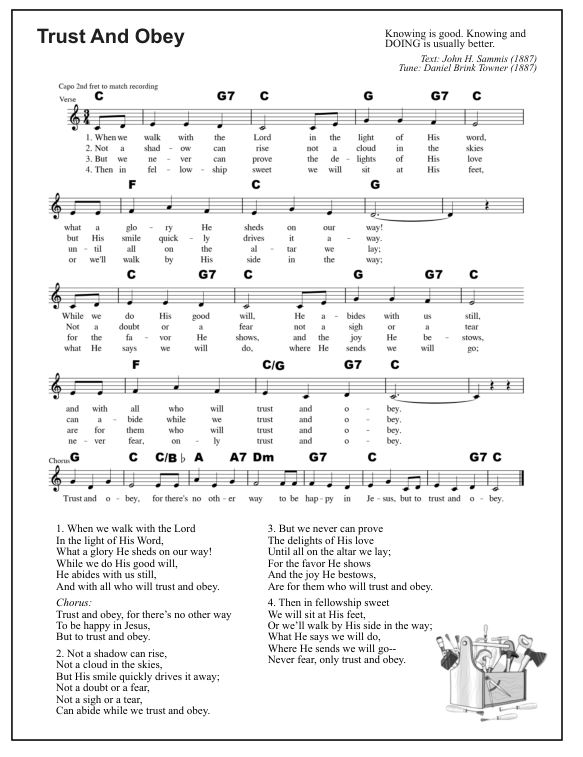 LYRICS: Trust And Obey
Text: John H. Sammis (1887)
Tune: Daniel Brink Towner (1887)

1. When we walk with the Lord
In the light of His Word,
What a glory He sheds on our way!
While we do His good will,
He abides with us still,
And with all who will trust and obey.

Chorus:
Trust and obey, for there's no other way
To be happy in Jesus,
But to trust and obey.

2. Not a shadow can rise,
Not a cloud in the skies,
But His smile quickly drives it away;
Not a doubt or a fear,
Not a sigh or a tear,
Can abide while we trust and obey.

3. But we never can prove
The delights of His love
Until all on the altar we lay;
For the favor He shows
And the joy He bestows,
Are for them who will trust and obey.

4. Then in fellowship sweet
We will sit at His feet,
Or we'll walk by His side in the way;
What He says we will do,
Where He sends we will go–
Never fear, only trust and obey.

Let's stay in touch
Each time I post a new song and lesson here I send a brief, cheerful note to friends of this song site. The note gives a quick description of the song and lesson along with a link to the new song's page. It is super-easy for you to get a note from me, too. Just click the green "Song of the Week" button below and you are almost there.
To sweeten the deal, you will also get instant access to the "Music Box" where I put all the free resources and downloads that go along with these song pages. Check it out now! Good stuff. (Side note — I still post announcements on social media, too, even though I have learned it is terribly unreliable at getting the message out and keeping us connected. Email gets that job done where social media fails. We do well to connect this way, and avoid getting throttled by social media.)
Share your wisdom with other readers ...
Please feel free to add your thoughts to this conversation in the "Leave a reply" spot below.
First posted December 23, 2020. Revised article posted July 13, 2023.