It was the first day of Kindergarten. My youngest daughter, not quite 5, paused by the front door to summon the courage for her first school bus ride into the unknown. What did she do? She sang THIS song. It was hers. She owned it. She used it. She prevailed.

It looks like a kid's song. Does a song remain a kid's song when the singer grows up and still enjoys singing it?

Like an acorn growing into a mighty oak, a good song learned as a child can provide beauty and even shelter for a lifetime. Learning good songs is literally an investment in quality living.

Please give this song a listen, then come back here and let me share more about this little gem.
Credit
Cindy Bernardini's teachings and writings continue to help people become better parents who raise better children. She wrote this song long enough ago that thousands of kids (mine included) grew up with it beautifully etched in their hearts. It is a song people like the first time they hear it and cherish through the years as it bubbles up to comfort and encourage, especially in times of need.
I hope posting this wonderful song here will help get it out to more people who will teach it to their children. In years to come, they, like my own children, will reflect that this is one of their all-time best loved songs. Cindy … THANK YOU! Well done! God bless you lots!!!!
"What is a children's song?"
I've been blessed to learn from many good teachers through the years. Among the best of the best was Dr. Robert Borg, a University of Minnesota professor, who taught elementary classroom music teaching methods. His content was clear and practical. His teaching style taught volumes all by itself.

One day Dr. Borg asked the class, "What is a children's song?" We stumbled around to discover a definition. As his manner was, he let us run for awhile, then offered an answer. He rolled out several songs from folk, Broadway, pop, gospel … and demonstrated that lots of songs have a basic goodness and attraction that work for all ages. You can learn these songs young and still be warmed and encouraged by them after many years of living.

Is "Amazing Grace" a kid's song? It sure could be. Is "Oh Susanna" only a kid's song? Nope. Is "Country Roads" a kid's or an adult song? How about "I See The Moon"? "Yellow Rose of Texas"? "Ragtime Cowboy Joe"? "Down In The Valley"? "39th Street Bridge Song"? I have found each of these songs, and many others, to be endearing, useful — even fun — for people of all ages.

Why I like this song
This song has a pleasant melody and is easy to sing.
But its best part is its message.

Compare this song with Psalm 23 (The Lord is my shepherd …) and notice many of the same ideas shared in both. Through a few short lines, carried by a peaceful and confident melody, we run these affirmations through our sometimes frazzled minds:
The Lord is walking with me
Even in a dark night (when I feel most vulnerable) the Lord is with me
Because He is there, I will not be afraid
God's Word assures and guides me in bad times and … always
God is not lost, even though I might feel lost
I will focus on the hope, the promise of life to come and everything related, and … KEEP WALKING
Do you see ideas from Psalm 23 in this song? Isn't this a rich song?!?

What a resource for our little girl that first day of Kindergarten!
What a gem for you to sing as you go through the day walking with your Lord!

God bless you lots,
-Dale R.
---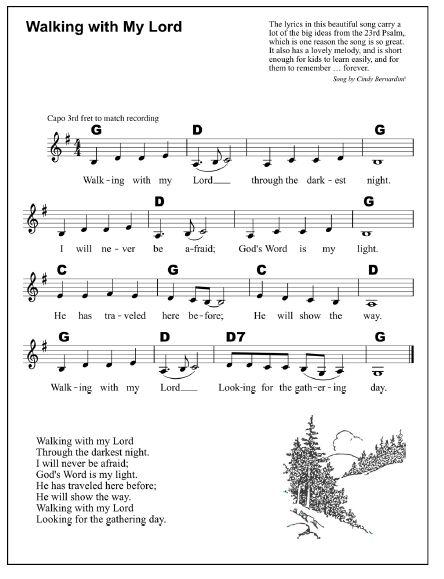 Download this music chord sheet
LYRICS: Walking With My Lord
Song by Cindy Bernardini

Walking with my Lord
Through the darkest night.
I will never be afraid;
God's Word is my light.
He has traveled here before;
He will show the way.
Walking with my Lord
Looking for the gathering day.

Let's stay in touch
Each time I post a new song and lesson here I send a brief, cheerful note to friends of this song site. The note gives a quick description of the song and lesson along with a link to the new song's page. It is super-easy for you to get a note from me, too. Just click the green "Song of the Week" button below and you are almost there.
To sweeten the deal, you will also get instant access to the "Music Box" where I put all the free resources and downloads that go along with these song pages. Check it out now! Good stuff.
What do you think?
What songs have you continued to love for years? Share your song titles and stories in the "Leave a Reply" section below. Thanks!!! -Dale R.
Song first published March 16, 2019 at 3:28 AM. New song video and article updates posted February 1, 2023.