Here is a fun break-the-ice / call-and-response song you'll love to have in your songleading tool kit. It uses "me first, you second" imitation to get the group into the song instantly. The song is like clean blue jeans — it is not formal, it brings a smile, and it blends silly with serious so it can be used to pivot a meeting in any direction that would bless. Please give the song a listen, then come back for some thoughts on God knowing US by name.
"♫♪ My name is in the Word of God ♫♪"
So sings the Palm Sunday donkey. What about us? Does God know you and me by name?
With human organizations, the larger they get, the more impersonal they become. As students and drivers and citizens we are assigned identification numbers, otherwise they could not keep track of us. Yikes!
But it is not that way with God. He is big enough that He is ABLE to — and DOES — know everyone personally. He knows and lovingly cares for individuals beyond our ability to comprehend. He numbers our days and the hairs on our head.
He certainly knows our names.
God has a good memory
Have you ever started reading the Bible and gotten bogged down in a sea of names? The Bible is loaded with names. According to the Biographical Bible, 2nd Edition, there are 3,237 Bible characters named in the Scriptures, with 1,443 characters who do not have unique names (for example, there are 4 Benjamins, 14 Josephs, and 31 Zechariahs named).
When I think of donkeys in the Bible, Balaam's name comes to mind. Numbers 22 gives us the remarkable record of this prophet who was "crookeder than a dog's hind leg". An evil king named Balak tried to hire this prophet, Balaam, to curse the Israelites. God did not want Balaam to take the job, but Balaam thought he knew better than God, so he hopped on his donkey and headed off to work. The Bible says Balaam's donkey actually tried to talk Balaam out of going. (It doesn't say his donkey SANG, but she DID speak!) God knows when a sparrow falls, so I'll bet He knew that donkey, even though her name is not supplied. And I'll bet the names of both Balaam and Balak are recorded in the book of works mentioned in Revelation. The day is coming when they will be resurrected, and will answer for what they did. That points to at least one reason God keeps track of names.
With God it's personal
But there is a much more exciting reason God knows people by name. I was reading one of those "sea of names" sections (I Chronicles chapters 1-9) and it dawned on me that God really, truly knows people by name. When III John says, "I wish above all things that you would prosper and be in health", we must not think of these words as if they were merely a clever quote preserved on a lone bumper sticker on some rusty, abandoned car.
Not at all.
III John expresses the desire of the Father God for each and every one of us personally. To help us receive the good He desires for us, He gave us life, His Word, His Dear Son, Jesus Christ, His gift of holy spirit, family — and the list goes on and on. Blessings abound.
God wishes that each and every one of us would receive blessings He showers on us personally.
I'm thrilled He knows us by name!
Even better than knowing I can ask the Lord for help and blessing is — is — is just knowing the Lord personally. What a privilege. What a joy. What comfort.
It's enough to make a donkey sing.
It's even enough to make a donkey song!
HEE HAW!
God bless you lots!
Dale R.
---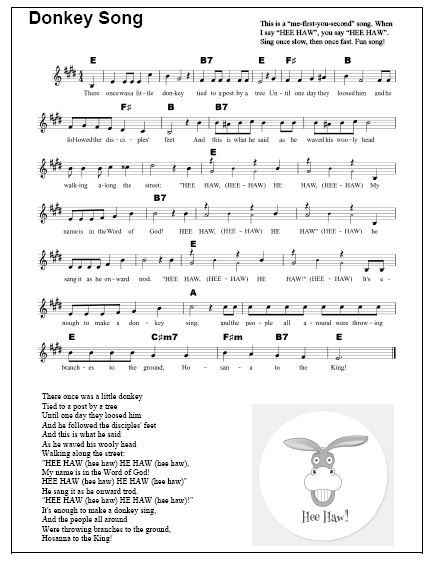 LYRICS: Donkey Song

There once was a little donkey
Tied to a post by a tree
Until one day they loosed him
And he followed the disciples' feet
And this is what he said
As he waved his wooly head
Walking along the street:
"HEE HAW (hee haw) HE HAW (hee haw),
My name is in the Word of God!
HEE HAW (hee haw) HE HAW (hee haw)"
He sang it as he onward trod.
"HEE HAW (hee haw) HE HAW (hee haw)!"
It's enough to make a donkey sing,
And the people all around
Were throwing branches to the ground,
Hosanna to the King!

Your thoughts?
Please jot a note in the "Leave a reply" spot below.
Do you know about The Music Box?
"The Music Box" is a free resource to you where I store extra information related to this "sermon and song" collection — all available to you for free. Just click "Get The Music Box" button below and answer one simple question and you'll receive instant access to explore The Music Box. I'll send you a confirmation note. If you don't see it in your email inbox, please check your spam folder, and accept the note from "musicminister.net".
THANKS! – Dale
First published June 18, 2020. Reposted January 22, 2023.