Psalm 23:6
The 23rd Psalm opens with "The Lord is my shepherd" and ends with the lyrics of this song. Please give it a listen and come back for more.
Learn to talk to yourself
We all spend too much time as passive listeners — listening to our own thoughts, doubts and complaints.
"You are too fat."
"You are too [skinny… dumb … greasy]."
"YOU LOSER!"
Etc., etc., etc.
Instead we can talk to ourselves, intentionally speaking truth to that person in the mirror, truth supplied by wiser sources than ourselves.
What can I say?
So what should we be telling ourselves? Good stuff, for sure! Check this out from Philippians:
"…whatsoever things are true,
whatsoever things are honest,
whatsoever things are just,
whatsoever things are pure,
whatsoever things are lovely,
whatsoever things are of good report;
if there be any virtue, and
if there be any praise,
think on these things."
Sometimes I think the Bible has a verse for EVERYTHING!
Collect the whole set
People make a hobby of collecting the most unusual things. Examples include bannana labels, belly button lint, surf boards, water bottles, Winnie the Poohs, super soakers …. on and on.
I suggest we make a hobby of collecting good things to TELL OURSELVES.
Attic of your mind, living room of your heart
Collect good things to tell yourself.
Store up words of truth and encouragement in the attic of your mind, and use these thoughts, beliefs, and ideas to decorate the living room of your heart.
Psalm 23:6
These lyrics from Psalm 23 are collectibles. Speak them to yourself, and LISTEN!
Sing the song and let it warm your heart and brighten your face. Look at the promises made and the pictures drawn in these verses and become energized. Include them as you decorate the living room of your heart. Rejoice that our God is GOOD. He was good in days gone by, He will be good in all the ages to come … HE IS GOOD RIGHT NOW. He knows us and loves us. Ephesians says:
"[God] has raised us up together, and made us sit together in heavenly places in Christ Jesus: That in the ages to come he might show the exceeding riches of his grace in his kindness toward us through Christ Jesus."
Let's get going with our collection of things to say to ourselves, and then DON'T STOP TALKING!
EXERCISE
Right NOW … read these words to yourself —- out loud if possible —- and LISTEN to yourself as you talk.
Then …repeat … often.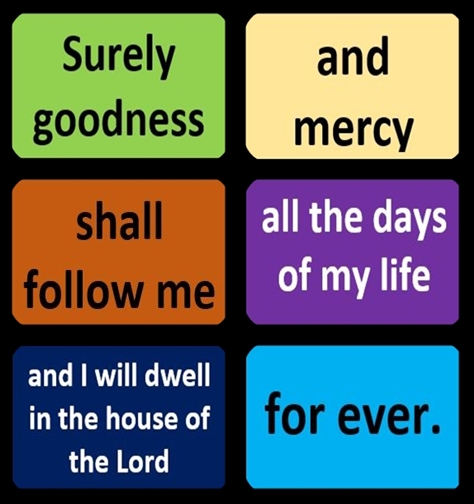 Let's talk
Don't just listen to yourself. TALK TO YOURSELF!
Say something GOOD! There are LOTS of good words to say to yourself. Collect the whole set. Let's talk!
God bless you lots!
-Dale R.
P.s. Please check out an earlier post I did on Psalm 23. Includes an original song and lesson on "redemptive names of God". It will bless you!
Your thoughts?
What good, true words do you like to tell yourself? Please jot a note in the "Leave a reply" spot below.
---
PLEASE SUBSCRIBE to MusicMinister.net.
Let me tell you when new songs are posted here!
Let me send you the key to print-ready song sheets and MP3 audio files you can download FREE any time, 24 x 7!
Subscribe by giving me your email address, and get the link to free stuff INSTANTLY. Click button for details.
THANKS! – Dale